Highlights
---
Five-piece electronic drum kit with crash, ride, and hi-hat with controller pedal

---

Develop stick control and correct playing techniques using the large 12-inch PDX-12 snare with double-mesh head

---

Updated TD-17 sound module with new kits, expanded effects, compression/reverb sections, and rich, dynamic, and natural drum sounds

---

Choose from 70 premium preset drum kits, including 20 new kits with custom samples

---

Learn expressive foot control and pedal techniques with the KD-10 Kick Pad

---

12-inch CY-12C-T crash and 14-inch CY-14R-T ride cymbals with thin profiles for natural feel and realistic movement

---

10-inch CY-5 hi-hat cymbal pad and FD-9 Hi-Hat Control Pedal

---

Three 10-inch PDX-8 mesh-head tom pads with head and rim triggering

---

Rugged and stable MDS-Compact stand

---

Expansion possibilities to support your unique playing and performance styles

---

Improve your sense of time with Time Check and Quiet Count in Coach mode

---

Warm-up menu provides a daily exercise routine to help your playing progress

---

Adjust the ambience and reverb of each kit to match the venues you perform at

---

Customize the preset drum kits to personalize your drum sound

---

Import your own samples to match specific songs and styles

---

Enjoy playing along with favorite tunes and video lessons by streaming audio from your smartphone to the module via Bluetooth® audio

---

Develop playing and timing with free Melodics™ for V-Drums software for macOS and Windows

---

Expand your range with sounds, samples, and artist kits at Roland Cloud

---
The Electronic Drum Kit
That Plays Like an Acoustic
---
If you regularly play acoustic drums, you shouldn't have to change or compromise your style with an electronic kit. The TD-17 lets you use the same acoustic playing techniques, thanks to the large 12-inch snare and a natural feeling hi-hat* that can be mounted on an acoustic hi-hat stand. And with a supremely playable collection of kits on board, you'll experience the authentic character and tone of acoustic drums with lightning-fast response time.
Realistic Pads for Uncompromising Performance
---
The TD-17KV2 and TD-17KVX2 kits come with enhanced snare and cymbal pads for an even more authentic drumming experience. The 12-inch PDX-12 snare and 10-inch PDX-8 tom pads feature tension-adjustable mesh heads for customizable acoustic-like response and rebound. In addition, the PDX-12 has a traditional hoop height to hit open rimshots with a natural stick angle. Both kits also include newly developed thin V-Cymbals that attach to the stands with a special pivot mount, providing acoustic-style swing motion and stick response when played.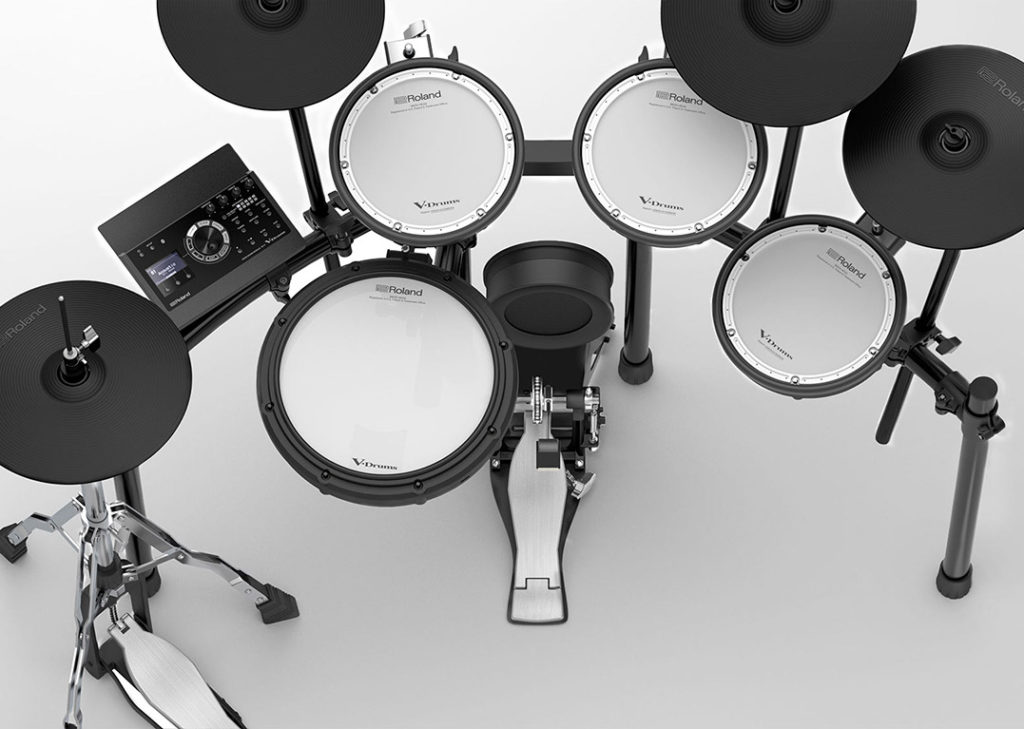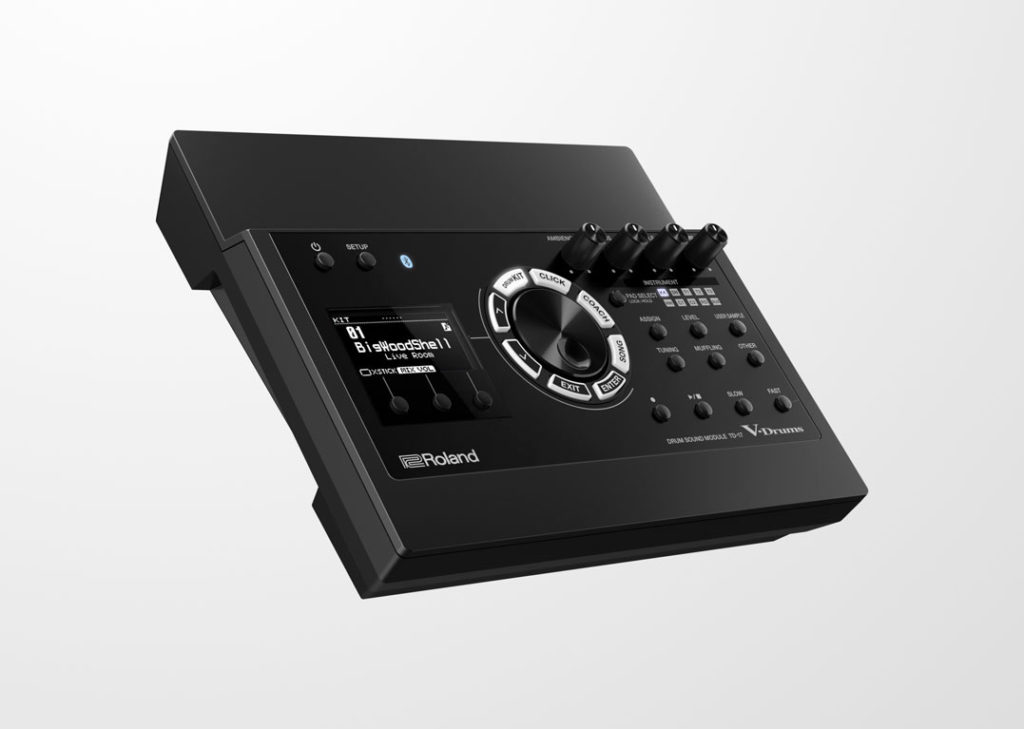 Great Sounds Lead to Great Performances
---
The TD-17's sound engine delivers a superior drumming experience, thanks to its advanced onboard Prismatic Sound Modeling. Just like acoustic drums, you can play with wide dynamic range and dramatic tonal changes depending on where and how hard you strike the pad. From rimshots, rolls, flams, and ghost notes on the snare to natural hi-hat transitions, dramatic crash hits, sustained cymbal swells, and more, every nuance is detailed, accurate, and ultra-smooth.
The Feel of an Acoustic Kick Drum (but Quieter)
---
A nice, solid kick drum usually comes with a nice, loud noise. Sometimes that's exactly what you want, but your family or neighbors may not feel the same. The KD-10 Kick Pad absorbs most of the impact noise thanks to its carefully engineered rubber components and cushion, all while retaining that satisfying acoustic kick drum "thud" when a beater is buried in a full-size head. In addition to keeping the noise down, the versatile design is compatible with all standard kick pedals, both single and double.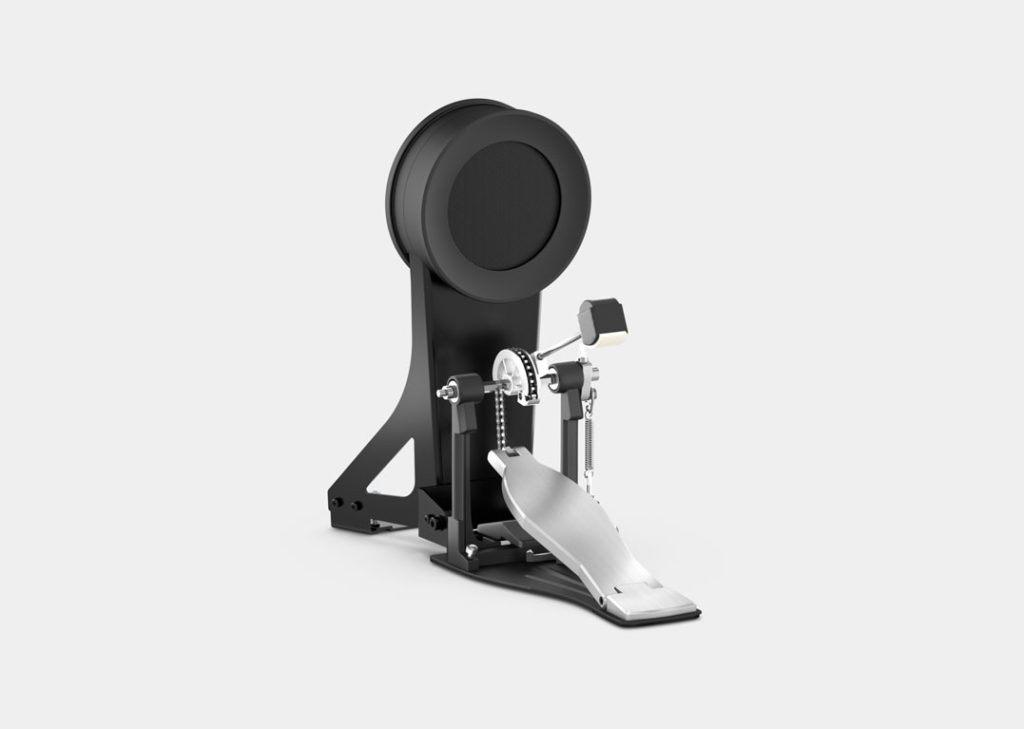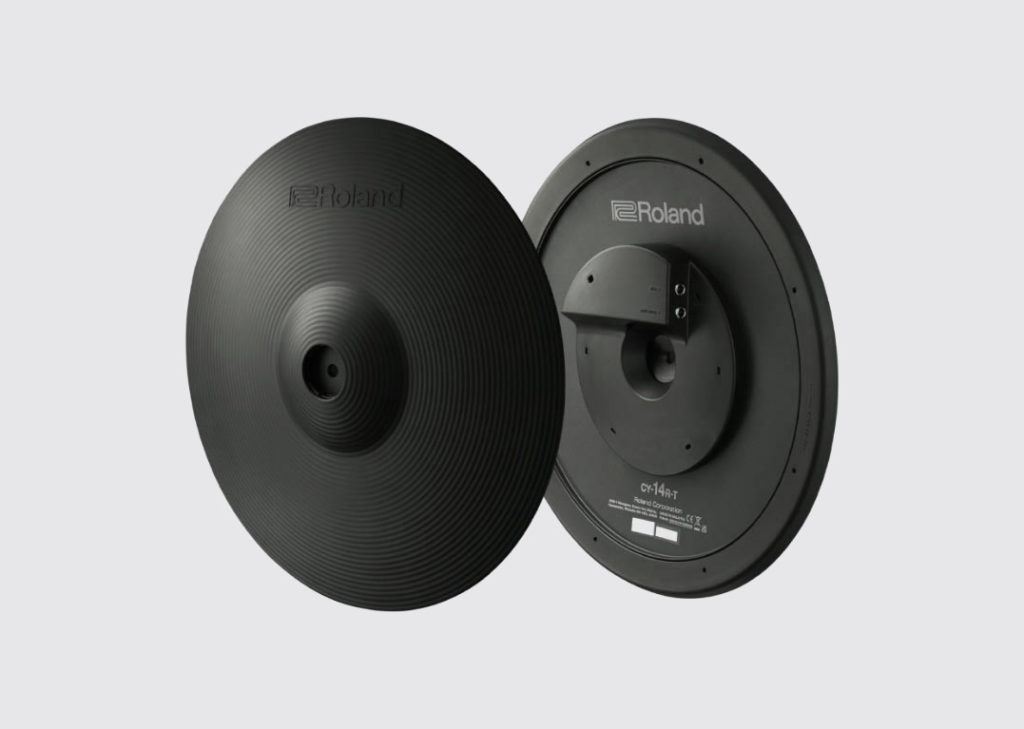 Slimmer, Low-Profile Cymbals
---
All cymbals in the TD-17 series feature thinner profiles than previous generations, offering more natural movement and improved stick feel. Each cymbal can also be choked simply by grabbing the edge—just like a real acoustic cymbal. The 14-inch CY-14R-T ride cymbal even includes three-way triggering with independent sounds for the edge, bow, and bell.
Join Your Favorite Band.
No Audition Necessary
---
While playing endless drum solos is undeniably fun, it only takes you so far. With the TD-17, you can push your drumming further by playing along with your favorite bands—including your own. Wirelessly stream music from your smartphone via Bluetooth audio and listen to the entire performance through your headphones. You can even record your performance to hear where you need to tighten things up.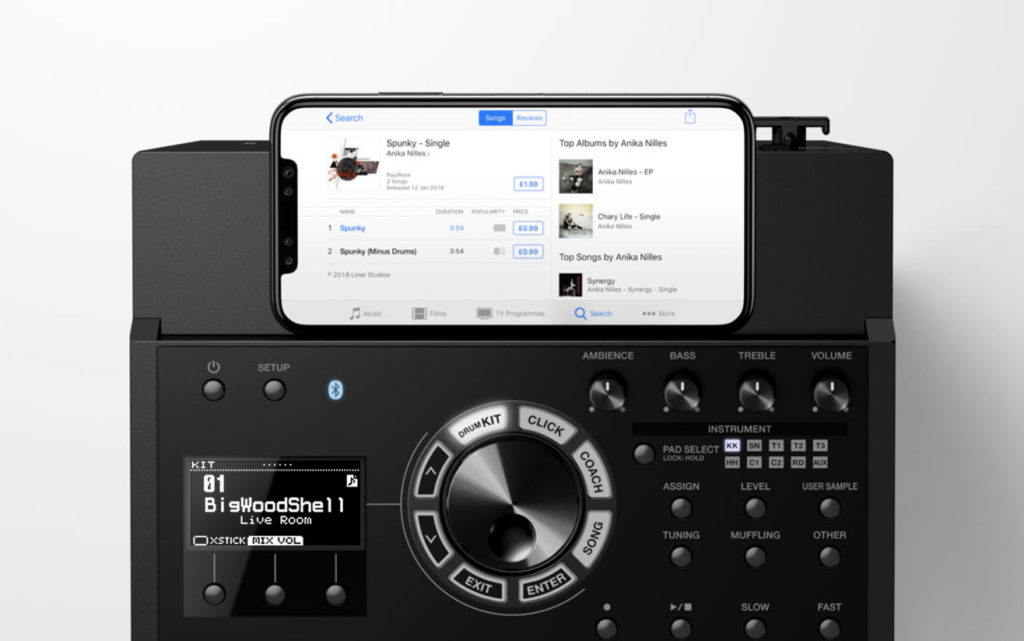 Play with Your Band—Wherever They Are
---
If you're in a band, getting everyone together can be challenging. But rather than going to rehearsals, how about bringing rehearsals to you? Work on your drum parts daily by playing along to finished songs, demos, and backing tracks streamed from your phone. Once you're back with the band in person, you'll be more than ready.
Record. Listen. Learn.
---
Listening back to your drumming is one of the best ways to improve. The TD-17 module has an onboard recorder that lets you hear and evaluate what you actually played—not what you thought you played. Record solo sessions or drum along with the TD-17 demo songs, audio stored on an SD card, or music streamed from your phone. Along with self-evaluation, it's an easy way to capture high-quality audio for YouTube performance videos.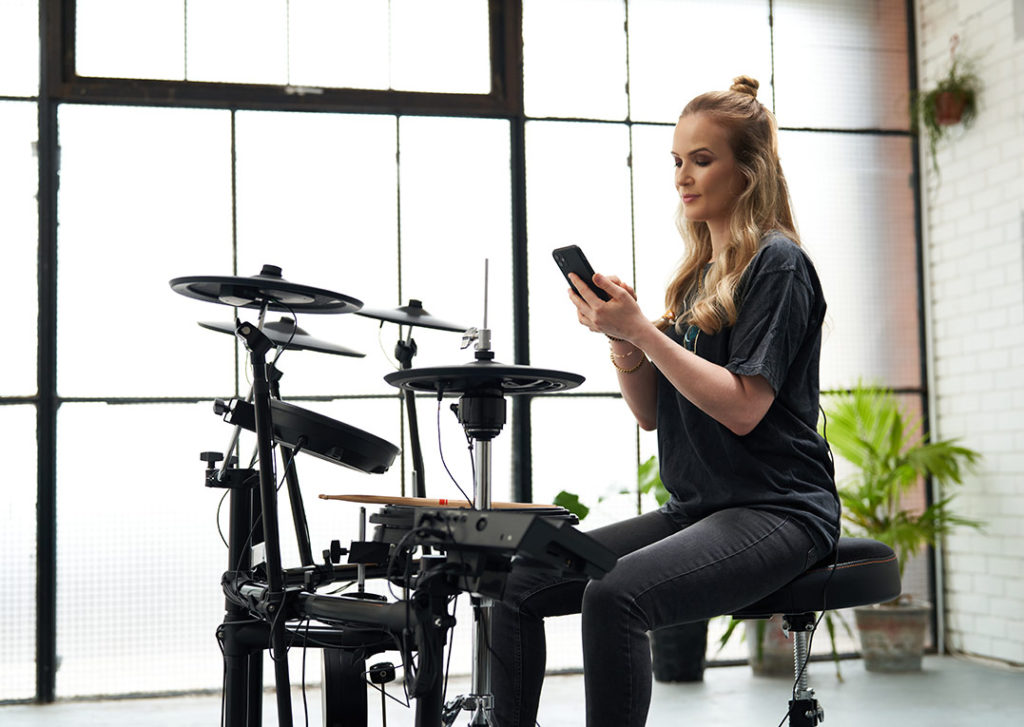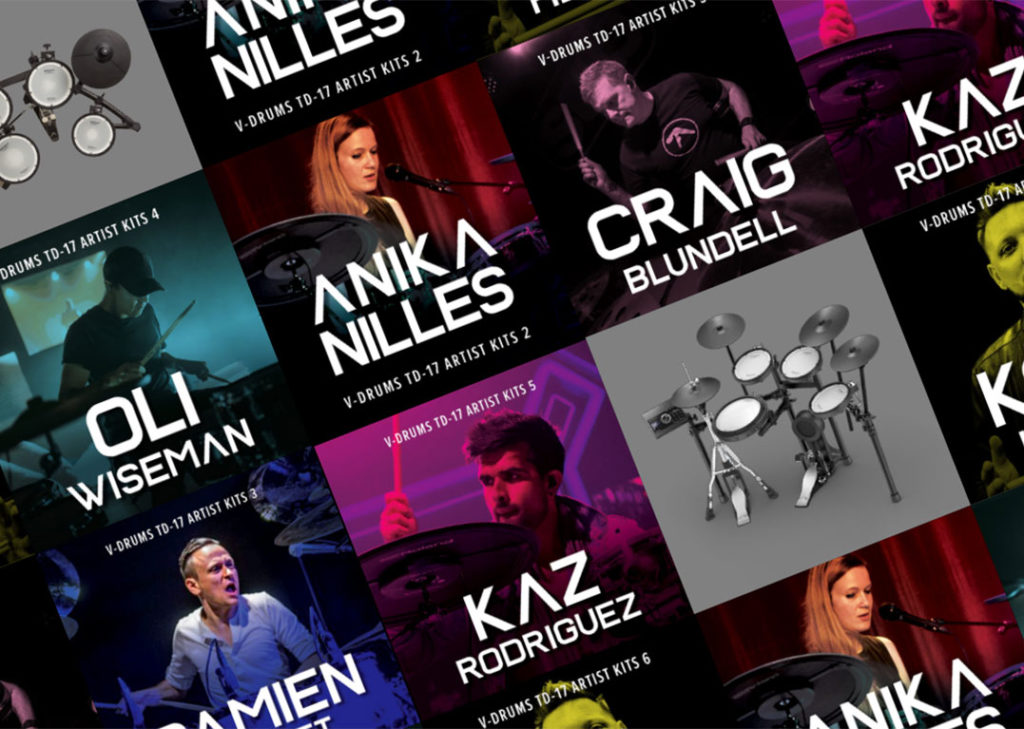 Download Extra Kits from Roland Cloud
---
You're not just limited to the preset kits inside the TD-17 module. Explore an ever-growing range of artist kits at Roland Cloud, including signature setups from pro drummers like Anika Nilles, Craig Blundell, Kaz Rodriguez, and more. Once you have a free Roland Cloud account, just download the kits that appeal to you and dig in.
The Essential Tools
to Improve Your Drumming
---
First things first: drummers should be able to keep a solid beat before moving on to the exciting stuff. But mastering the basics can be exciting too, as it builds a solid foundation for growing as a musician. The TD-17 module includes a Coach mode to sharpen your skills with daily practice tools, complete with progress tracking that motivates you to improve. Play through warm-ups, develop your sense of groove, tempo, and timing, and even work on your stamina.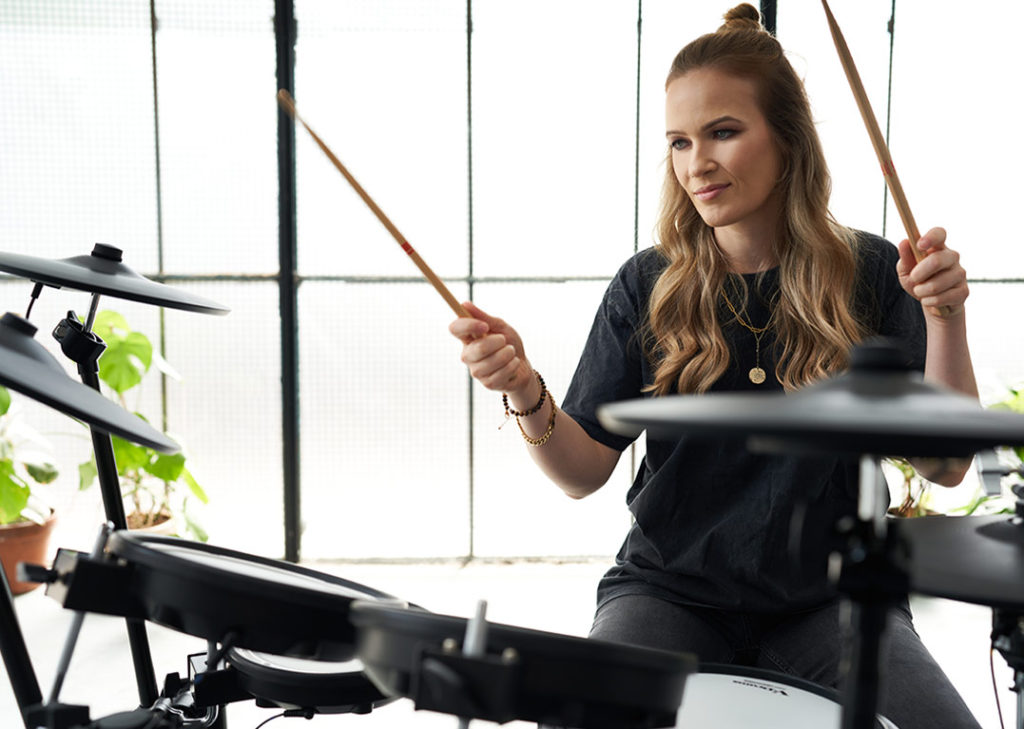 Deepen Your Sense of Groove
---
With Time Check, you can develop more accuracy when playing to a click track. After a performance, accurate strikes are shown with a percentage value, and you can see whether your pad strikes were on, ahead of, or behind the beat.
Fine-Tune Your Internal Timing
---
Quiet Count helps refine your internal sense of time and tempo. As you play, the click drops in and out every few measures. During the silenced bars, you must rely on your internal sense of timing to maintain the tempo as the click returns. The more you use it, the more your "internal metronome" will improve.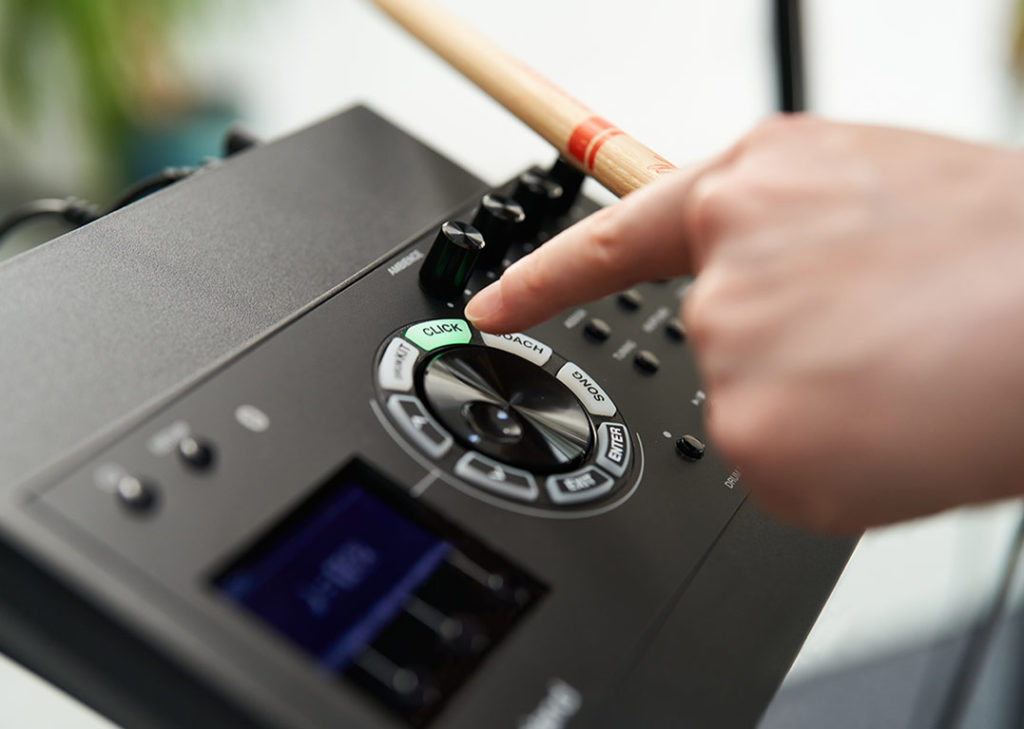 Effective Warm-Up Routines Made Easy
Coach mode also features a cool warm-up regimen to make daily practice sessions more enjoyable. Choose from three warm-up times and select a starting tempo. Then play through a range of exercises, including rhythm type changes, tempo changes, and a timing evaluation. When you're finished, you'll get an overall grade showing what you need to improve on—and be loosened up and ready for some serious drumming.