Standard Features
A complete pro production studio for webcasting with a smartphone or tablet

---

Compatible with Twitch, Facebook Live, YouTube, and other major streaming platforms

---

Integrated system combining a compact desktop hardware interface with an interactive app

---

Control smartphone cameras, trigger media, and adjust levels as you stream with intuitive, hands-on controls

---

Large, customizable media libraries for onscreen titles, music, videos, photos, and sound effects

---

Three microphone input options for great vocal sound: onboard microphone with reverb effect, plus XLR input with phantom power and combo jack for using the microphone on your headphones

---

Headphones jack for sound monitoring

---

Line input for connecting a musical instrument, mixer, or other external audio device

---

Check viewer comments directly in the app while streaming

---

Skin filter, in-camera mirroring, automatic portrait/landscape switching, and more

---

Add a second smartphone camera via wi-fi and switch camera views with the hardware or app

---

With Version 1.10 of the GO:LIVECAST app, gamers can now stream sound and live images from a second smartphone via its screen recording function (visit the Support tab for device compatibility)

---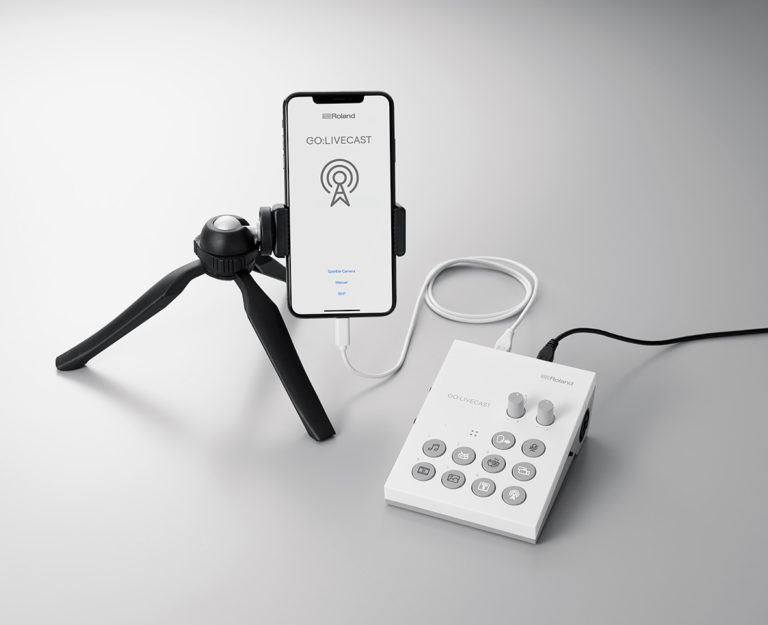 Plug-and-Play Setup
Using GO:LIVECAST is quick and easy—just plug in your smartphone and connect earbuds or headphones for sound monitoring. A built-in mic is ready to capture high-quality sound, complete with onboard reverb if you like to sing. An external professional mic is also supported via the XLR input, and there's even a stereo line input for plugging in a guitar preamp, synth, mixer, or other sound source.
Add Your Content to Your Livestream
The GO:LIVECAST app includes easy-to-use media tools that bring premium production values to your web shows. Create your own personalized libraries for music, sound effects, photos, and videos, or start creating with a variety of pre-installed options. Custom titles and text are also available, enhancing your productions even further. Media elements for different shows can be stored in Live Sets, all queued up and ready for when it's time to go live.
Direct Connection with Streaming Platforms
The GO:LIVECAST app logs in to your accounts on Facebook Live, Twitch, YouTube, and other major streaming services.* Just select a platform and tap to start webcasting! And as you livestream, comments from your viewers can be monitored via a scrolling window in the app.

*Some restrictions may apply. Please review the support information for your streaming service for setup instructions.
A Mini Broadcast Studio at Your Fingertips
Via a simple, customizable control layout, the GO:LIVECAST hardware lets you direct your live presentations and stay fully engaged with your audience. All it takes is a touch to start broadcasting, play music, display titles, launch photos and videos—or even trigger some applause at the end of the show! Knobs provide quick control of mic and media volumes, while the mic-mute button will keep coughs and unwanted sounds out of your livestream.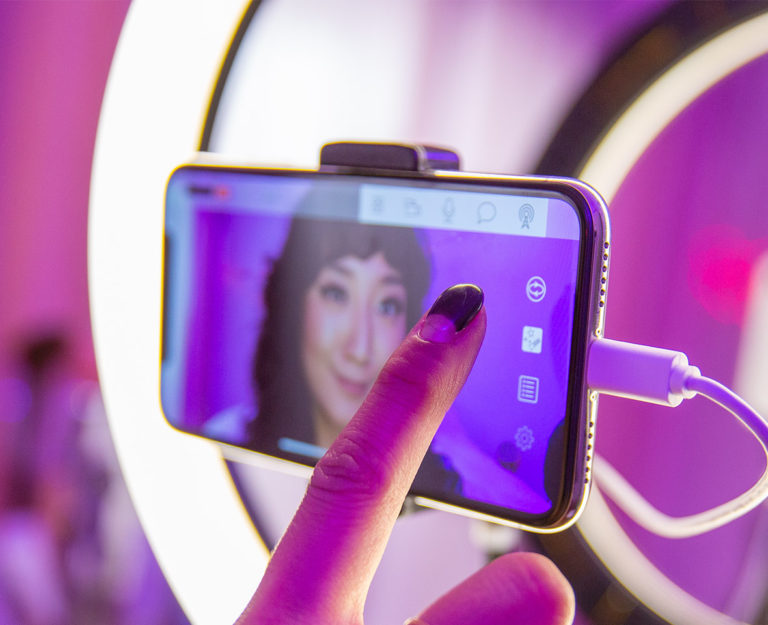 Get the Best Out of Your Smartphone Camera
Select your smartphone's front or rear camera within the app and add a skin filter, if needed, to soften the look. Portrait or landscape mode is automatically set by your phone's positioning, while in-camera mirroring displays the proper left/right perspective to your audience. It's even possible to connect a second smartphone camera over wi-fi, with one-touch switching and support for split-screen views. Version 1.10* of the GO:LIVECAST app supports streaming sound and images from a second phone via its screen record function. This allows gamers to stream live feeds from the second phone while overlaying picture-in-picture from its front-facing camera.

*The Version 1.10 update is not supported on some mobile devices. Visit the Support tab for the latest compatibility information.