Standard Features
11 onboard tones including four sax variations, flute, clarinet, violin, plus over 50 sounds available through the
Aerophone GO Plus app for iOS or Android devices
Headphones let you play anytime without disturbing other people
Play anywhere with battery operation and onboard speakers
Easy to carry, weighing just 1 lb. 9 oz./695 g—comes with dedicated soft case
Play along with favorite songs on your smartphone, using Bluetooth® audio
Play with up to six friends using Aerophone GO Ensemble smartphone app for iOS or Android devices
Compatible with traditional sax fingering; instantly transposable to any key with no fingering stress
Mouthpiece features sensitive breath sensor with reed structure for authentic playing feel and control
over techniques like vibrato and pitch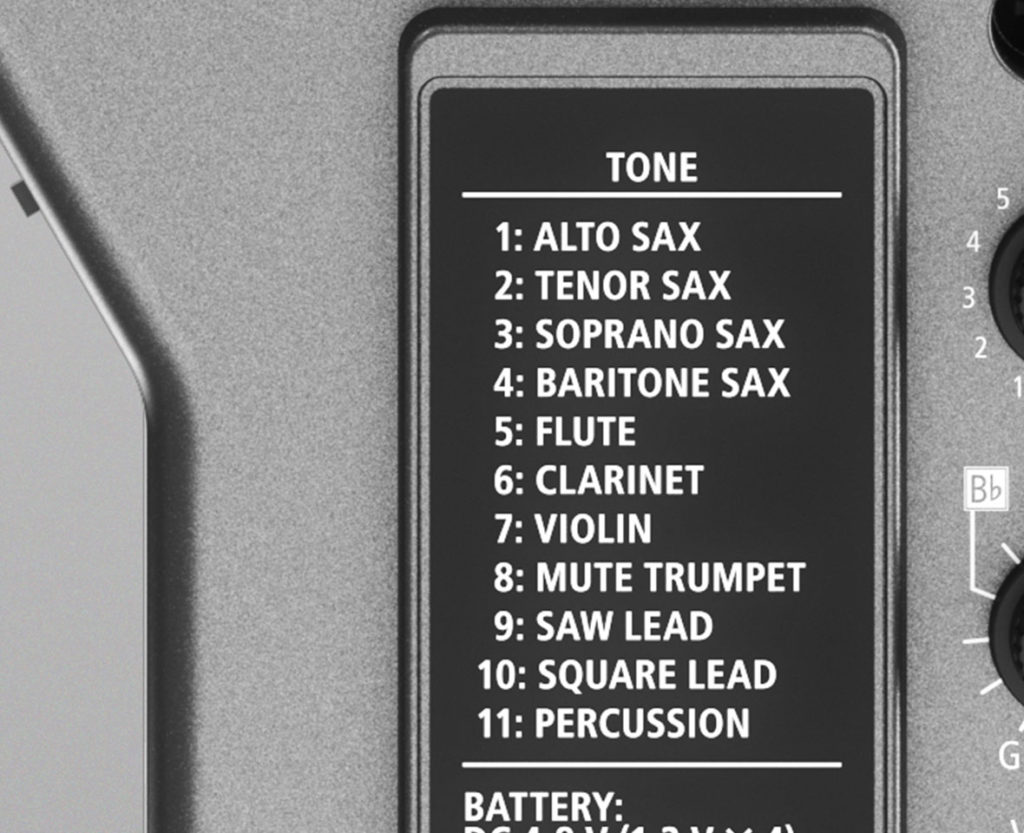 Find an Inspiring Sound, Think Of Your Favorite Tune, and Start Playing
With 11 instrument sounds on board—including soprano, alto, tenor, and baritone sax—Aerophone GO lets you explore a multitude of musical genres. But even if sax is your preferred instrument, playing violin, clarinet, or even synth lead is great fun and hugely inspiring. Downloading the free Aerophone GO Plus app invites you to explore even further, adding 50 additional sounds and letting you customize the onboard settings to suit your personal style.
Play Anytime, Anywhere
Aerophone GO is highly portable, with four rechargeable NI-MH (AA) batteries that let you play anywhere. The built-in speaker delivers high-quality sound wherever you want to play, without needing external speakers and connections. And using headphones means you can play any time of the day or night without disturbing family or neighbors; just choose a sound, set the volume and start playing. Weighing 1 lb. 9 oz./695 g, Aerophone Go is a great travel partner too—and comes with a soft case for your musical adventures.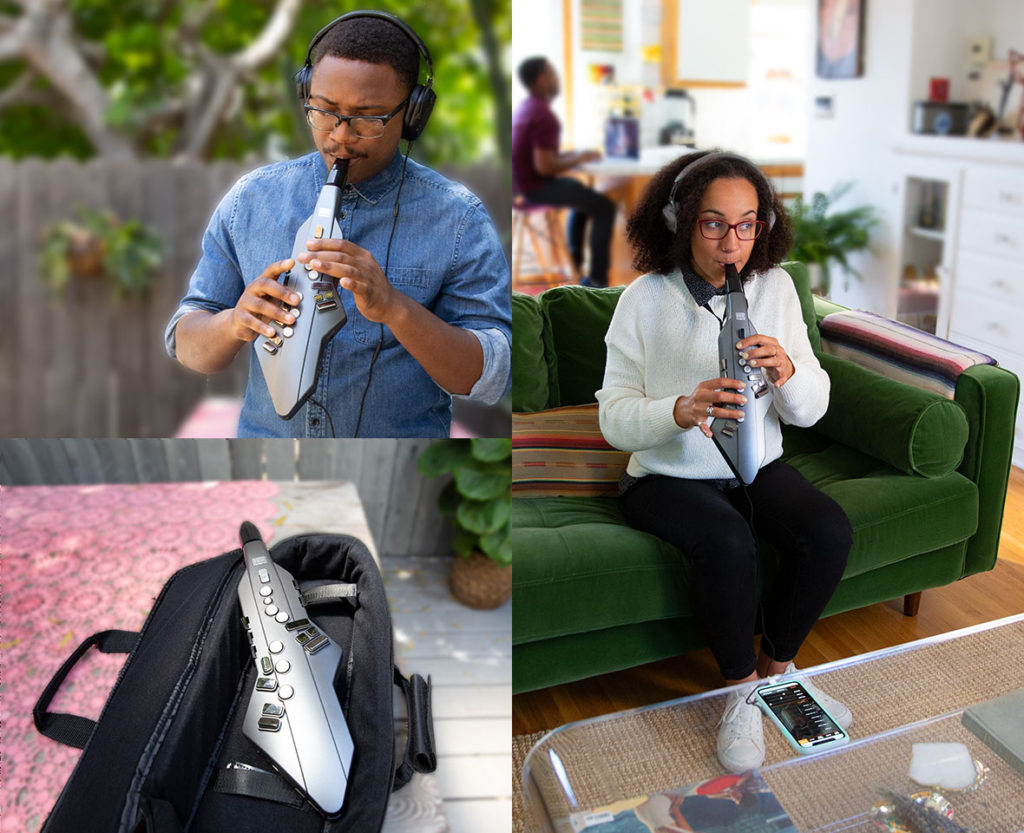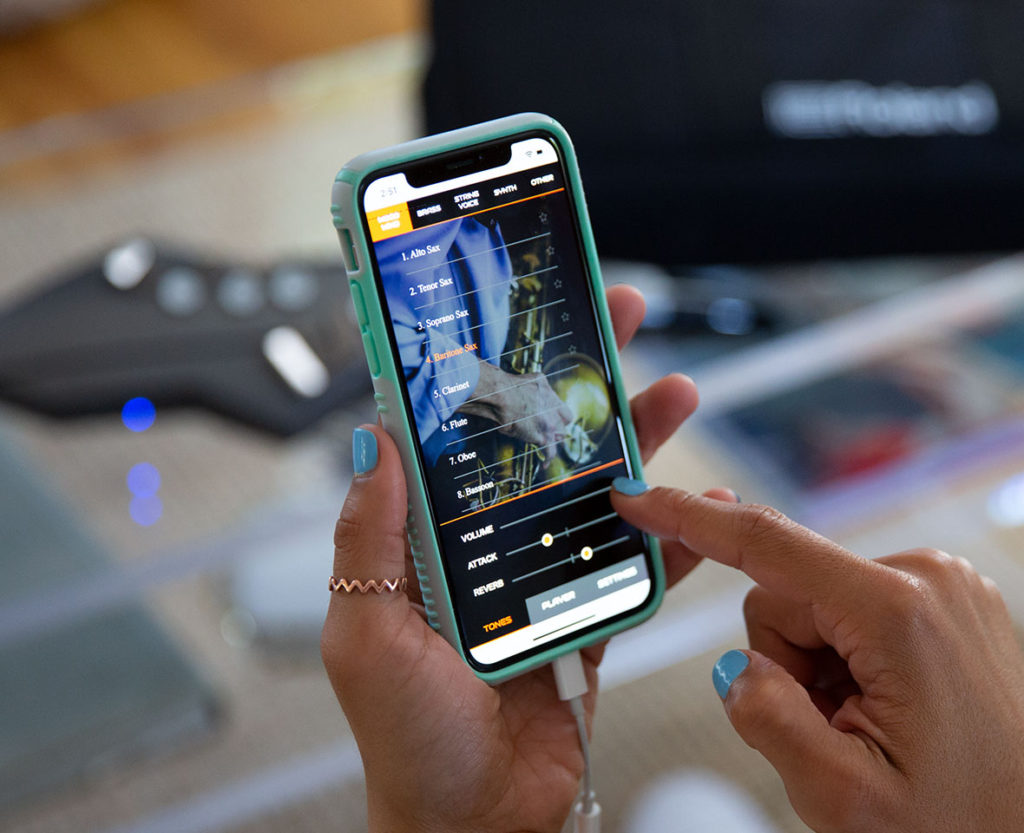 Smartphone Apps Make It Quicker To Learn Your Favorite Song
As a standalone instrument, Aerophone GO offers inspiring sounds, portability and the option of playing with headphones. And when you use Bluetooth® to wirelessly connect with your smartphone, things become even more exciting. Aerophone GO Plus is a free app app that includes 11 easy-to-follow tutorial songs to help build skills quickly. You can also play along with favorite songs from your smartphone and use several tools to assist you in learning them, including slowing the tempo or looping a section to study it in detail. In addition, the app provides access to over 50 additional sounds for exploring a wider range of musical genres. And it's even possible to customize performance settings, including fingering setup, bite sensor adjustment, and breath control sensitivity.

*Available for iOS and Android devices