Conquer any recording session with professional studio quality and features!
The M-Audio AIR 192|14 is an 8-in 4-out feature-packed USB audio/MIDI interface that provides all of the connections and software you need to easily create professional 24-bit/192kHz studio-quality recordings. The AIR 192|14 features (4) XLR+¼" TRS combo inputs, (2) ¼" line inputs and (2) ¼" instrument inputs that have a specially designed gain and impedance stage to provide the most accurate representation of your guitar or bass when plugged directly into the interface. There is also MIDI input and output connections so you can connect any external midi gear that you may have such as external sequencers, drum machines and controllers.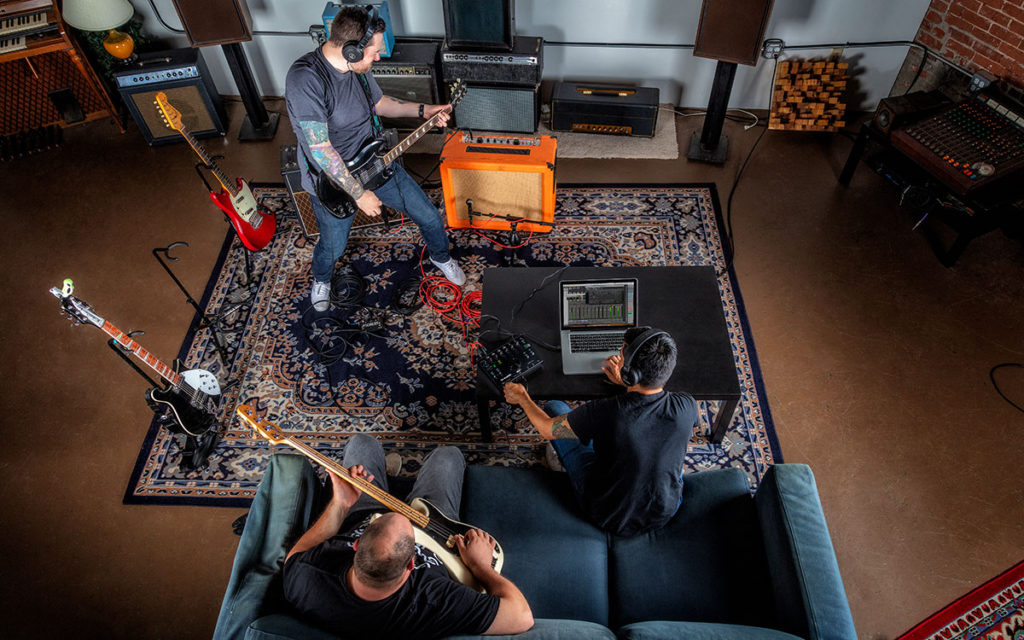 We've included software to match your style!
The AIR 192|14 comes complete with a software package that has everything to get you started making professional recordings right out of the box. With 2 powerful DAWs to suit your production needs, AIR 192|14 includes Pro Tools | First M-Audio Edition, and Ableton Live Lite. This amazing audio and MIDI recording software will inspire you to create, record and share your ideas across the world at any time.
We've also added an entire Effects Plugin, Virtual Instruments and Loop package to cater to all your production needs. Whether you need a guitar tone, reverb, or delay we've got your effects needs covered with Eleven Lite, 20 effect plugins and AIR's Creative FX Collection Plus. With the included AIR Virtual Instrument plugins, you'll have a virtual drummer, drum machine, synth, strings, percussion, organ and piano plugins to add world-class-sounding instruments to your songs with ease.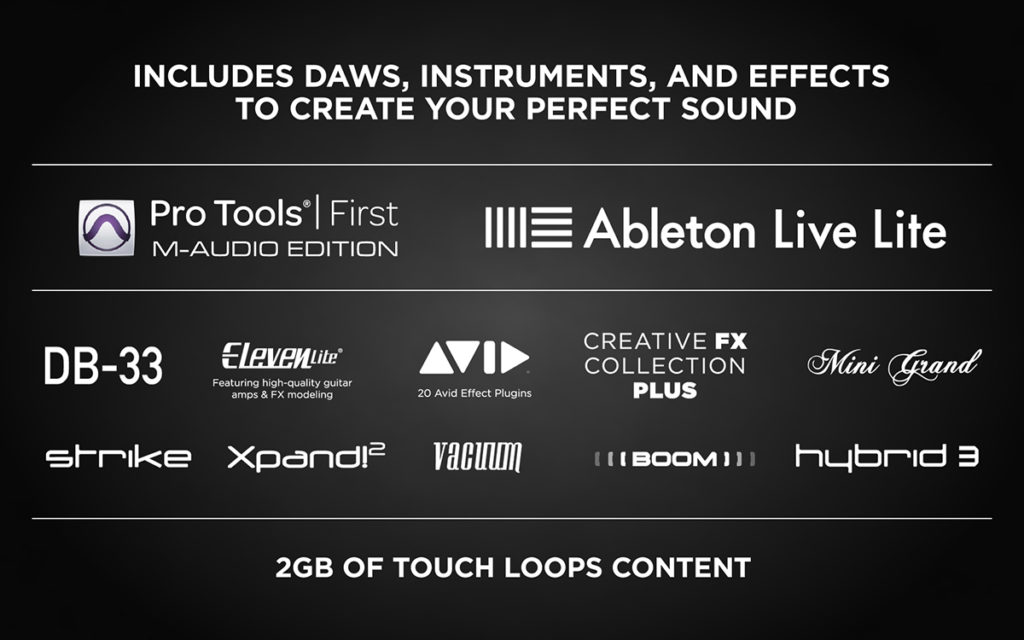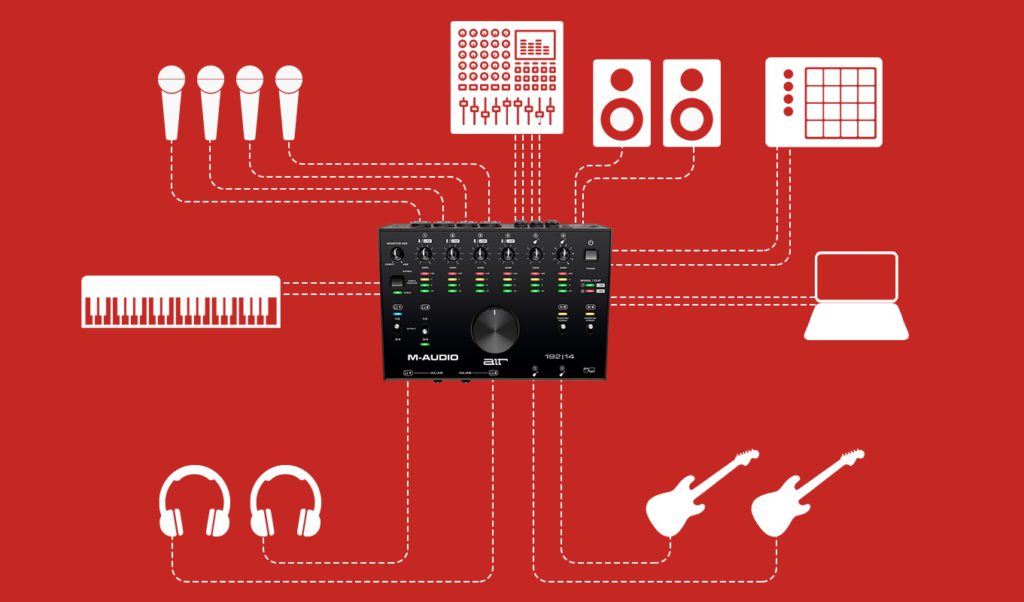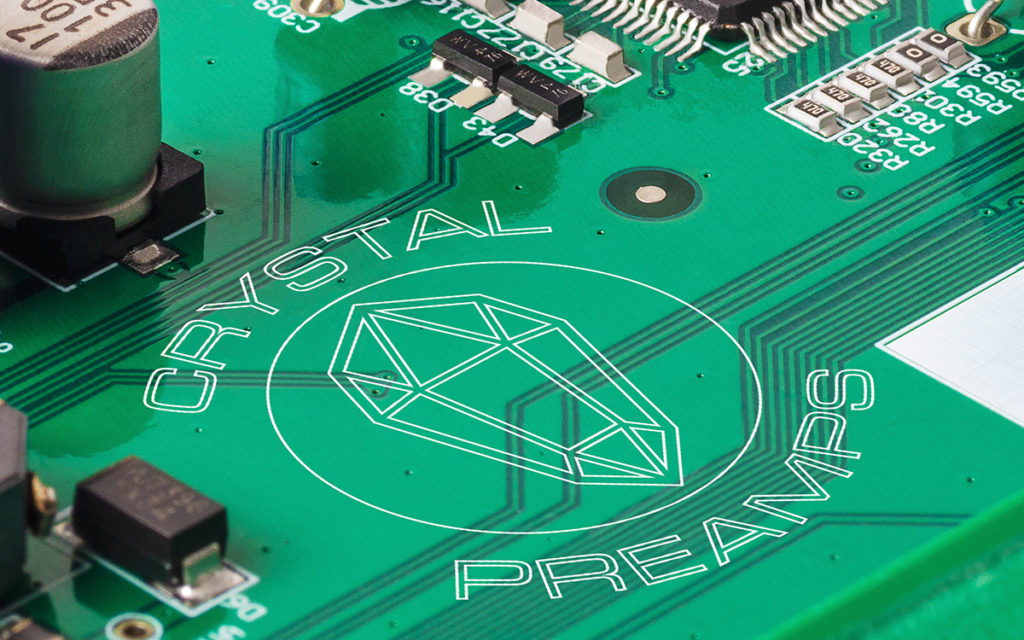 Crystal™ Preamps, Pristine A/D Converters and Premium Components
Our engineers designed the Crystal Preamps to provide engineers, producers and musicians with a transparent, low-noise preamp that guarantees the best sound from your microphones and captures your performance exactly the way you intended. The AIR 192|14 incorporates pristine A/D converters to provide 24-bit resolution digital audio for explosive dynamic range that captures every nuance and subtlety of your performance.
Mix, Monitor and Provide
At the center of the AIR 192|14 is a large metal monitor volume knob with inlayed rubberized diamond textured comfort grip for dialing in your studio monitor's volume, and smoothly referencing your mix at both high and low levels. The monitor and headphone outputs feature a direct mono/stereo switch and direct/USB mix knob. The (2) ¼" headphone outputs have independent volume controls, and source select switches let you create mixes to suit your and your artist's needs. In addition to the (2) ¼" rear panel monitor outputs, the AIR 192|14 offers an additional (2) ¼" outputs for connecting outboard gear.