Pedal-based amp simulator and impulse response loader with premium sound and features
32-bit AD/DA, 32-bit floating-point processing, and 96 kHz sampling rate
128 user IR slots with support for mono and stereo WAV files, up to 32-bit floating point/96 kHz resolution, and 200 or 500 ms length
Large onboard preset cab IR library with 144 BOSS IRs and 10 Celestion Digital IRs
Class-leading IR reproduction with two custom DSPs
Eight guitar and three bass amp types to cover a wide range of styles
Run up to two IRs at once in mono or stereo
128 memories for storing user setups
Two EQs in each memory plus two global EQs, all with selectable parametric or graphic operation
Room, Studio, and Hall ambience types
Effects loop with mono send and mono/stereo return, with selectable pre-cab or post-EQ positioning
Dedicated software for loading cab IRs and backing up memories
Versatile USB audio interface for recording and playback with music software on Mac and Windows computers and iOS devices
Deep external control support via footswitches, an expression pedal, and TRS MIDI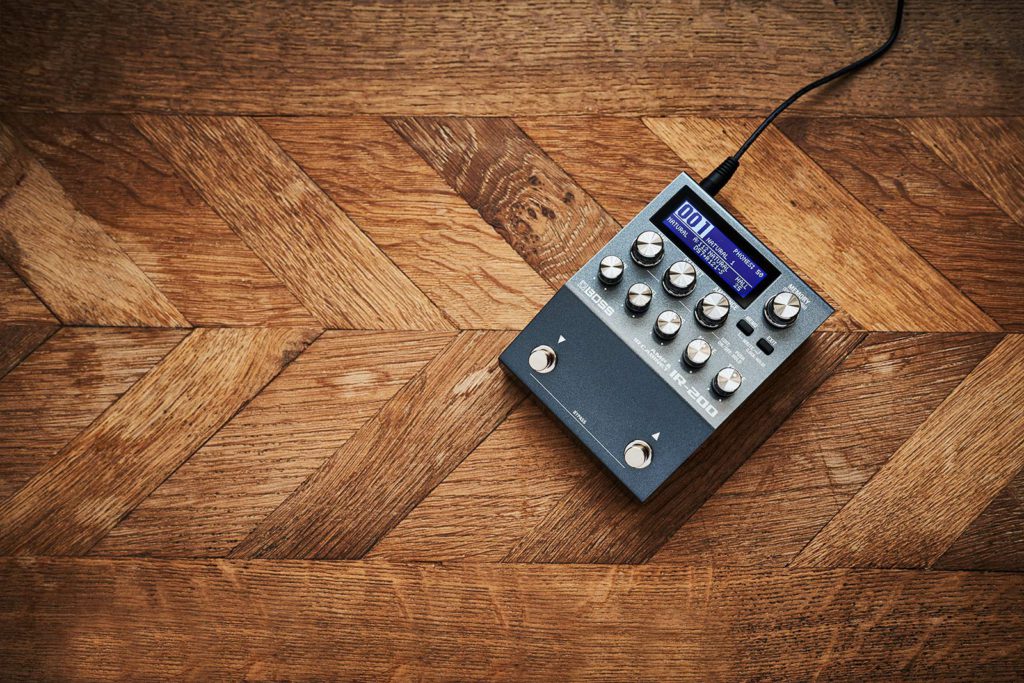 High-Resolution Stereo Cabinet IRs
Backed by two powerful custom DSPs, the IR-200 provides exceptional IR performance with support for mono and stereo files, up to 32-bit floating point/96 kHz resolution, and up to 500 ms length for natural bass response. The 144 BOSS and 10 Celestion Digital IRs cover a vast range of cabinet and mic combinations and are always ready to use in your patches. And with the IR-200 IR Loader software for macOS and Windows, you can load in up to 128 mono or 64 stereo WAV IRs from your personal collection
Stage Commander
With the IR-200's display, panel controls, and flexible connectivity, you can perform with confidence on any stage. Grab the dedicated knobs to tweak tones in the heat of the moment, and send independent feeds to a stage amp and house PA via the two output jacks. Scroll through memories with the two onboard footswitches while performing, and control a variety of functions with external footswitches or an expression pedal. MIDI control is also available, allowing you to interface with other MIDI-equipped pedals and devices like the ES-8 and ES-5 loop switchers.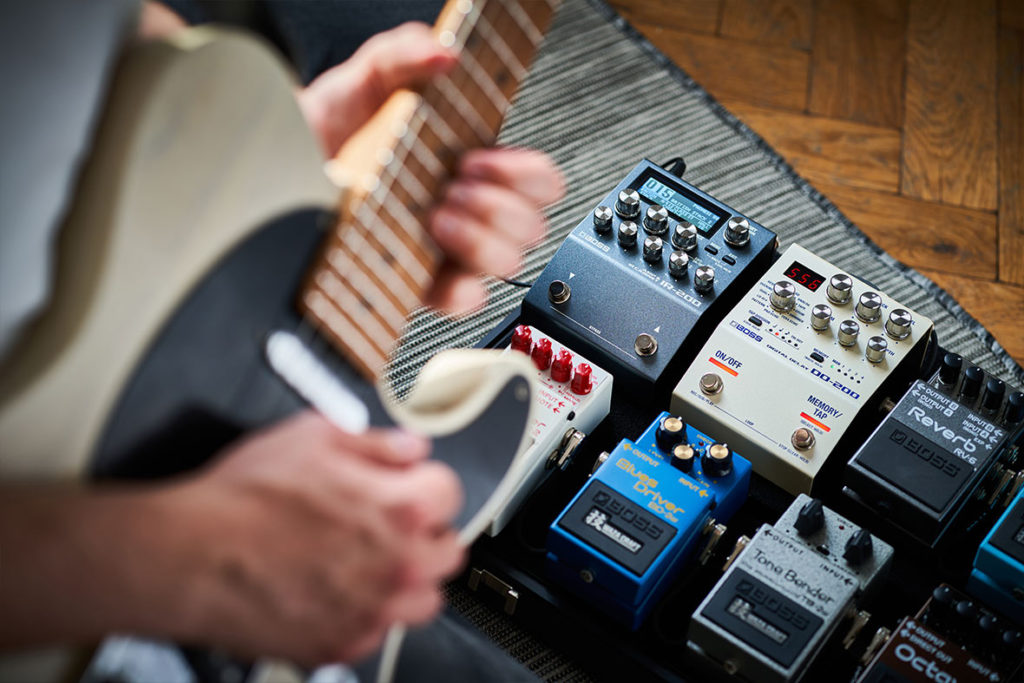 Ready for Recording and Livestreams
Along with its other powerful features, the IR-200 is a high-quality USB audio interface for music recording and streaming software. Dedicated drivers provide a full range of audio interface functionality on macOS and Windows computers, while basic stereo audio streaming is possible with iOS devices. Record tracks and monitor audio with your computer DAW and re-amp sounds through your pedalboard and the IR-200's amps and cab IRs. Or perform live on your favorite streaming platforms with fantastic direct sound.
Practice, Monitor, and Play Along with Backing Music
The IR-200 is also equipped with a headphones jack for sound monitoring while practicing, recording, or playing live. You can play with normal stereo sound through headphones or switch in a cool surround effect for an immersive and inspiring sonic experience. There's also a stereo aux input for playing jam tracks or backing music from your phone, a mixer, or another audio device.